Cabe Toyota Tire Center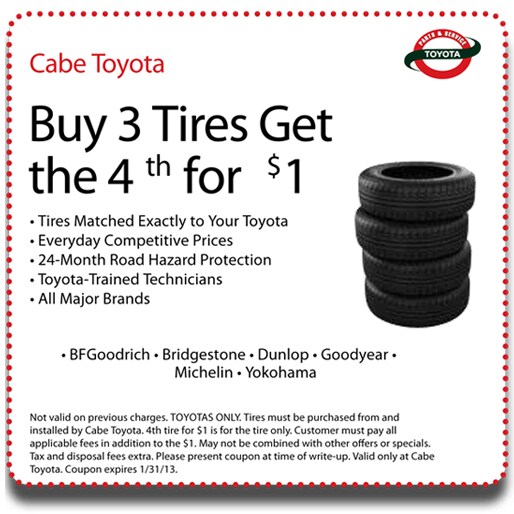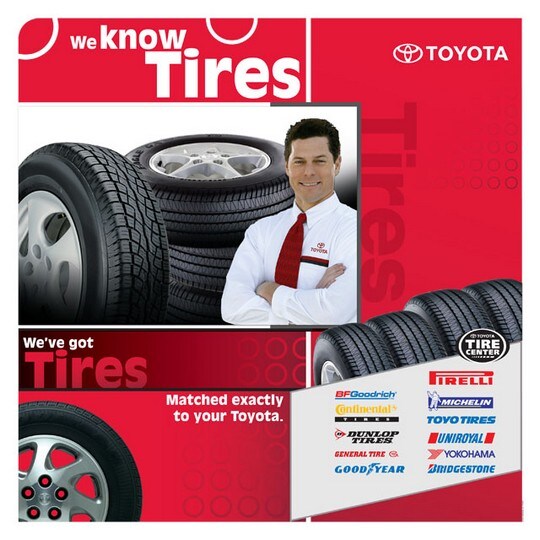 Your Toyota's tires are a specifically engineered component of your vehicle, helping to provide its unique driving and safety characteristics. That's why it's important to use tires that are exactly matched to your Toyota.
Getting your tires from Cabe Toyota is your assurance that you'll get those tires-and only those tires.
The Big 7
There are seven factors that go into exactly matching tires to your specific Toyota model and year:
| | |
| --- | --- |
| - | Size |
| - | Speed Rating |
| - | Load Rating |
| - | Tread Wear Rating |
| - | Traction Rating |
| - | Temperature Rating |
| - | Overall Brand Quality |
Your Toyota Tire Expert Knows
There's no mystery to determining the exact tire match for your specific Toyota. But for the average person, taking into account all the factors involved would be overwhelming.
Fortunately, our Service Managers are true tire experts! They'll suggest the exact tires your Toyota needs to keep on performing and driving like the day you got it!
The Exact Tires You Need, Competitively Priced Without Having to Shop Around!