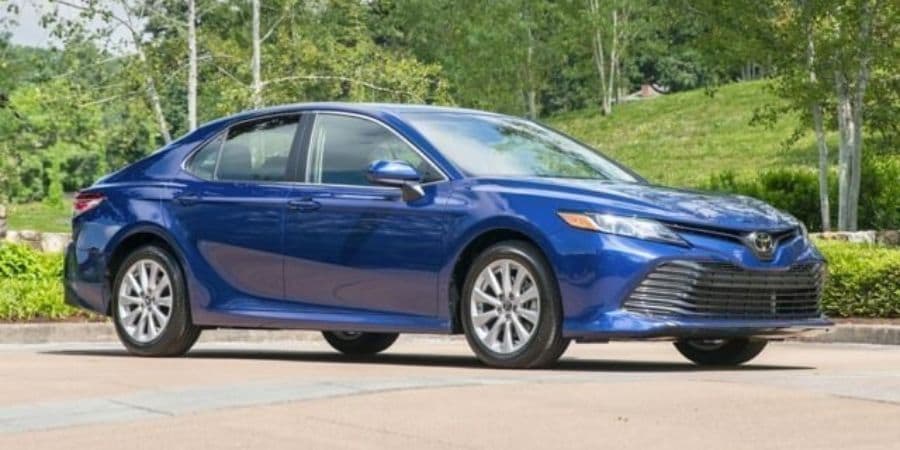 Value Has a Name in 2019. It's the Toyota Camry.
For many drivers in Los Angeles and Lakewood, CA, it's not hard to pinpoint what they want when they go shopping for a car. They want "more."
When you schedule a test drive in the Toyota Camry, more is what you'll experience. A mid-sized sedan packed to the brim with impressive standard features. The Camry delivers a robust and sporty experience that's safe and comfortable to boot.
Rock-Solid Engine Options Headline a Dynamic Performance Package
The 2019 Toyota Camry's engine options start of good and only get better from there. Even if you just drive home with a 2.5-liter inline-4 under the hood, you'll enjoy 203 horsepower, 184 pounds-feet of torque, and an impressive 29/41 miles per gallon.
If you want more power, the Camry also offers a 301 horsepower V6. Caron, CA drivers committed to efficiency, meanwhile, will find lots to love in its hybrid options, which comes complete with a fuel economy of 51/53 miles per gallon.
Best of all? The Camry feels good to drive! Recent redesigns help the 2019 Camry deliver a more responsive experience that's downright athletic when it's performing at its best.
Spacious, Well-Equipped and Safe
The Camry's performance is only one piece of what makes it great. Even more important is its rich selection of standard and optional features. Spread across its five trims are equipment like Apple CarPlay, dual-zone climate control, leather seating, and selectable drive modes. You can also enjoy built-in navigation, wireless phone charging, and built-in Wi-Fi.
Toyota's Safety Sense package comes standard, packaging in valuable active safety features like blind-spot monitoring, automatic emergency braking, adaptive cruise control, and much more.
The 2019 Toyota Camry is Waiting at Cabe Toyota Long Beach
There's nothing like the reinvigoration of a comfortable favorite. If that sounds like the kind of experience you're looking for, get in touch with the sales team at Cabe Toyota Long Beach. We'd love the chance to tell you more about our value guarantee and the special offers available at our dealership.